Top>
Mold Buster [Kabiknight]
|Mold Buster|Lactic acid|Feature and the whole ingredients|Various usage|Test data |
---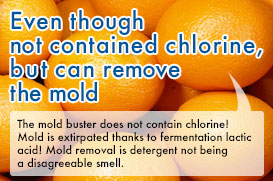 Lactic Acid Detergent ~ Mold Buster 
A Mold Buster is the mold removal detergent which paid its attention to the disinfection power of fermented lactic acid.
By making fermented lactic acid into the main ingredients, since no materials containing chlorine are mixed, a user weak can also use [ chlorine ] them simply and conveniently.
Although chlorine is not contained, the test result of removing most mold which occurs in a home 98% or more in 10 minutes has been obtained in the powerful mold removal of fermented lactic acid.

Mold Buster can be flushed the septic tank.
Even if it flushes a Mold Buster directly in a septic tank, it hardly has influence on the microbe of a septic tank.
Mold Buster is a low stimulus. You can enjoy yourself using mold removal freely.
Fermented lactic acid of the main ingredients is a substance generated also in human's body.
Since the degree of a stimulus is also a grade weaker than a commercial shampoo, so everyone who can use it freely.
Mold Buster is under activity also as business purposes.
It can be used as the mold removal and an object for disinfection washing in a building maintenance hotel, and housecleaning, house reformation business.
Further upgrades with the smell of an orange !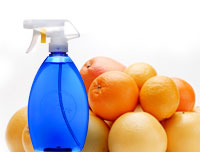 A new mold remover is further upgraded with the newly blended natural orange oil.
It spreads in the room and cleaning of the scent of a fresh orange will become much more pleasant. Attention