Various Usage
|Mold Buster|Lactic acid|Feature and the whole ingredients|Various Usage|Test data|
---
Mold removal
1 Please spray to cleaning spot you want.
2 Please neglect it as it is about 5 minutes. (Mold removal and disinfection are done in the meantime)
3 Please rub with a dust cloth, sponge, a brush, etc.
4 Please wash away with water or wipe off with dust cloth etc.
Usual cleaning (disinfection) is carried out.
1 Spray with a cleaning spot or make it contain in sponge, a dust cloth, etc.
2 Please clean up with sponge, a dust cloth, etc.
3 Wipe with dry cloth if necessary.
Various usage

Also a stainless steel sink is glitteringly --
If it sprays with kitchen garbage, it will be useful also for slime prevention or prevention of odorous emission.
---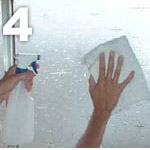 If an undiluted solution is thinned with water 5~10 times, it will become easy-to-use at cleaning of glass. (It is not a removal use of mold) Please wipe with dry cloth.
---
(Note 1) Since a mold buster is a water-soluble liquid, when it is used for the material of water absorbency, it is a danger of becoming a spot.
Please use the use to the place to worry after confirming in an inconspicuous part.
(Note 2) A mold buster is not bleach. Therefore, the washing back may not become pure white like a commercial mold removal agent (chlorine system). Moreover, it may be no effect in the pigmentation by mold, or the spot by dirt.