Rat Control ~ Rat Repellent
|Rat Control|Little information of rat|Four articles of rat repellent |
Phytoncide is a blessing from woods.|Data|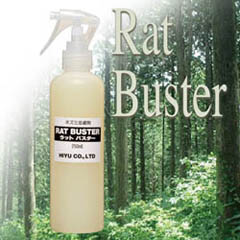 ○Rat controlis made from the natural ingredient.
○It is not mouse poison. The environment where a rat cannot live easily is created.
○There is also a forest bath effect.  You can also use it at home feeling easily in which a baby and a pet are, also being able to expect the relaxation effect by a forest bath effect.
○We are any time available to consult if you want to business use, please feel free to contactusby
An ingredient and its feature
Ingredient
All the ingredients of the Rat Control are consist of natural materials.
The essence of the ingredient is the ingredient which is extracted after distillation trees etc., also is extracted from the plant which is called phytoncide.
Phytoncide is Russian (phyton = plant chid = kill), meaning that a plant is the resistance material of volatilization and fragrance emitted for self-defense, and has a bactericidal effect, and the repellent effect and the prevent the mold effect on an enemy animal and an insect.
Generally, it is thought that a plant is generating and emitting phytoncide in a body in order to protect itself.
Phytoncide is useful to people, mental stability, a cerebrum center is stimulated, and thanks to forest bath effect, it has an effect which stimulates cerebrum center also heightening bodily adjusting power.
(Note) Please do cautions to use at the home which has the pets (hamster etc.) of a rat system
Feature
A Rat Control is blended and produced with various plant oil refinement, and the fountainhead of the repellent effect is Terpene  one of  an  oil-refinement ingredient.
However, since these ingredients have volatility, as it is, it volatilizes and carries out them for a short period of time.
A Rat Control makes these ingredients a water-based emulsion by original research, and is devised and developed  so that the effect may continue for a long time.
Moreover, it is a useful ingredient for human, and makes people safe and sanitary environment.
Main ingredients of Rat Cotrol
| Ingredients | Main Material | Prosess |
| --- | --- | --- |
| Hinoki tiol | Hiba Oil | Extraction |
| Terpene | Pyroligneous acid | distillation |
| Timor | Beefsteak plant | Extraction |
| Herbal extract | Lavender | Extraction |
| Ethanol | Ethanol | Brewing |
| Emulsifier | - | - |