Top>
PURE55

|Top|PUROGENE|Bio-Cide International, Inc.|
Bio-Cide International, Inc.
All the chlorine dioxide solution that our company manufactures are being supplied from the biocide international company (U. S.A). Over 35 years or more, this company in Norman, Oklahoma, the United States , tackles stabilization of a chlorine dioxide, produces a unique Aquatic chlorine oxide solution, and is manufacturing the variegated line of a chemistry antiseptic, an antiseptic, a deodorant, or an antiseptic now.
The chlorine dioxide solution of the Bbiocide International Company was recognized by U.S. Environmental Protection Agency (EPA), Food and Drug Administration (FDA), and the United States Department of Agriculture (USDA), and is developed as large-scale commercial application.
Eventually, since it decomposes into simple salt, without leaving a toxic residue, the chlorine dioxide base products of a Biocide International Company can be used without special consideration, and can attain the purpose safely almost in no odor.
The distributers of Bio-Cide International, Inc. in the world is not only to sell products but also to produce academic activities, to enlighten about proper knowledge of the product and to gather data for this epock-making product.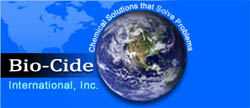 Bio-Cide International inc. website